Fiber cement siding is often considered maintenance-free when in reality, some maintenance is required. Check out other debunked myths below.
Get quotes from up to 3 pros!
Enter a zip below and get matched to top-rated pros near you.
As an installer of fiber cement siding, we often hear various opinions about what to expect from these products. The typical comments we hear from potential customers investigating fiber cement siding are basically the same:
• "Fiber cement siding will last forever."
• "I'll never have to paint it again."
• "Why do they still put asbestos in the product?"
These assumptions are simply false. I would like to address these maintenance misconceptions with information from James Hardie, a leading manufacturer of fiber cement products.
Myth 1: Fiber Cement Siding Will Last Forever
Fiber cement originated in Austria in 1901 when Ludwig Hatsheck patented the product under the name "Eternit," derived from the Latin word "Aeternitas," meaning everlasting. Fiber cement siding gained popularity in Australia due to the heavy brush fires and later gained popularity in North America in the 1980s.
Fiber cement siding has many benefits beyond its low maintenance requirements. It's:
fire-resistant 

impact-resistant

insect and rodent-resistant

moisture-resistant
Common sense, however, will tell you that nothing lasts forever. The same holds true for fiber cement siding. Over time, age and Mother Nature will deteriorate any siding product on your home. Also, some fiber cement manufacturers have had issues caused by the various types of concrete manufactured throughout the globe along with the compound materials used in the blending process.
Myth 2: You'll Never Have to Repaint Fiber Cement Siding
This misconception is simply not true. Our company will paint approximately 400 homes this year. Some of those will be homes that are simply due to be repainted because the lifecycle of the exterior paint job has expired. Others will be homes on which we install the primed version of fiber cement siding.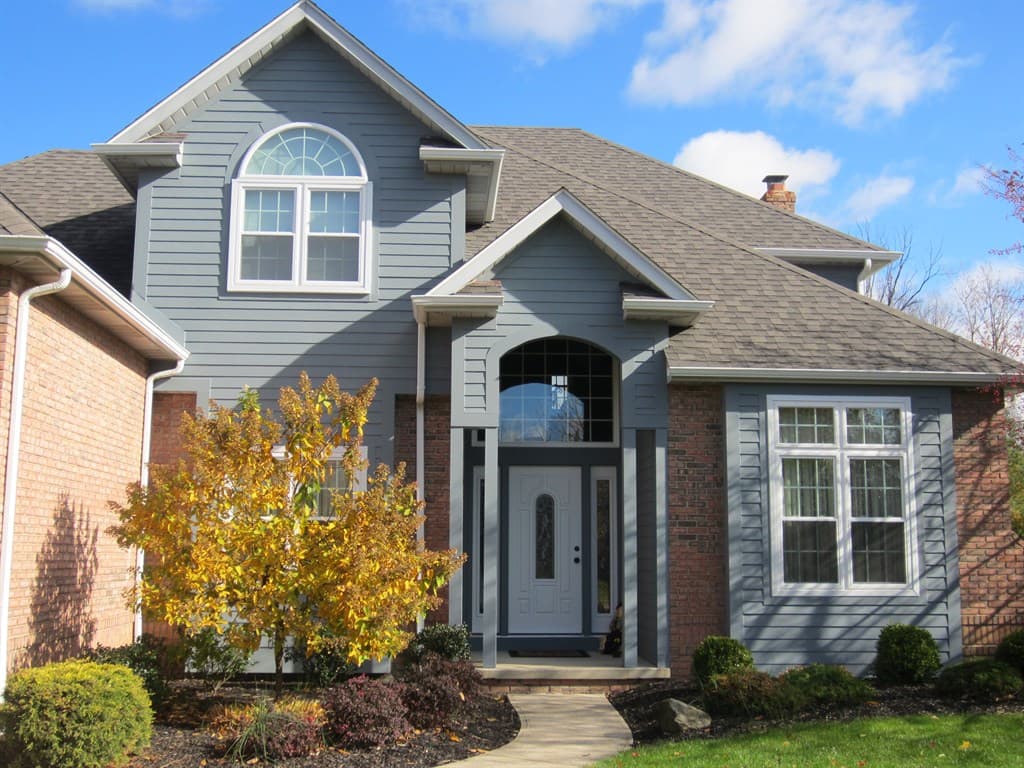 In our market, the lifecycle of a typical exterior paint job is between five to seven years — with correct prep work and a high-quality primer and finished product.
However, we find most of our customers who choose to install fiber cement products on their homes see their paint lifecycle extended to 12 years or more. This is due to the fact that fiber cement does not soak in the painting products like cedar, pine or other wood siding products.
There are two common versions for use on homes, apartment buildings or commercial structures:
• Primed: This version allows you to paint the fiber cement siding in whatever color scheme you choose after installation.
• Pre-painted: With this version, the primer and paint coating process is baked onto the fiber cement panels prior to installation. The pre-painted version provides a greater, longer lasting finish than any on-site painting process can offer.
Myth 3: Manufacturers Use Asbestos in Fiber Cement Siding
Although some of the earlier versions of fiber cement siding did indeed have some asbestos particles blended in, fiber cement was actually designed to replace the asbestos siding products to create a safer environment for the installers and the home's residents. James Hardie discontinued manufacturing and distributing building materials containing asbestos in 1987.
Maintaining Fiber Cement Siding
As you can see, fiber cement siding will indeed require some maintenance. However, fiber cement's lasting durability doesn't require as much maintenance as other siding products. Keep an eye on the caulking and make sure you wash your siding every six months with a low-pressure garden hose to remove dirt and bird residue from the surface.
Fiber cement siding can provide a very long life with little effort to maintain, but make sure you understand the maintenance requirements per the manufacturer guidelines. This way, you can ensure the product's lifespan and keep your warranty requirements in place.