Learn to protect yourself from aggressive and unscrupulous air duct cleaning sales tactics.
Get quotes from up to 3 pros!
Enter a zip below and get matched to top-rated pros near you.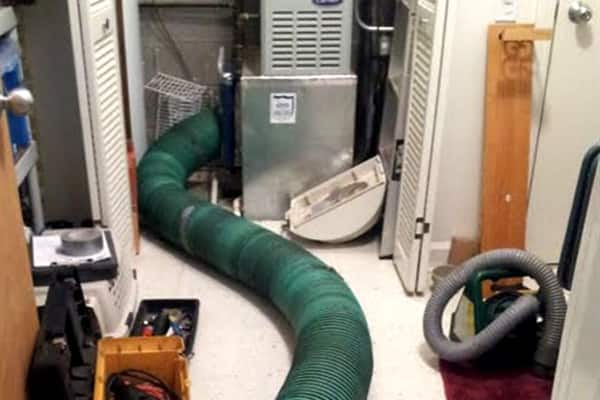 Every day, the National Air Duct Cleaners Association fields complaints about "blow and go" companies offering prices as low as $40, but they add charges on-site for mold remediation and various products using aggressive sales tactics.
"From the moment they pull up to your house, they're looking for ways to upsell you," says NADCA executive director John Schulte, adding that duct cleaning should cost at least $400 and take two people about four hours for an average home.
Consumer alerts from attorneys general, media and advocacy groups have recently been issued for shoddy duct cleaners across the country. In March, the Massachusetts attorney general settled with a Worcester company for $18,500 after it failed to provide services and merchandise to consumers who responded to ads for cheap duct cleaning.
In September, a Connecticut man was arrested and charged with violation of home improvement laws and larceny for allegedly scamming customers who responded to ads for $70 duct cleanings by providing substandard or unnecessary work.
RELATED: Tips for Hiring an Air Duct Cleaning Service
Member Wael Masri thought Global Air Pro would clean the ducts in his Raleigh, N.C., home for less than $100 based on an advertisement, but he says the technician charged him $1,000 for extra services and products that weren't delivered. Then, Masri's air conditioner stopped working and he had to hire a handyman to fix damage he attributes to Global Air Pro.
"The sales guy was very suave and charming, and I was caught off guard," Masri says.
Global Air Pro's number was disconnected.
Member Nicole Kobrowski says a technician from Indy Air Care in Indianapolis tried to sell her $2,100 in services based on a mold test she says was fake. After a two-hour sales pitch, she decided to not purchase the service.
"Unfortunately, I'll never get that wasted time back," says Kobrowski, who responded to a $50 coupon for duct cleaning.
Indy Air Care did not return calls seeking comment.