20% Growth in 2021 Home Service Spending as Americans Adjust to a New Normal
Angi's 2021 State of Home Spending Report finds 20% year-over-year growth in home services spending.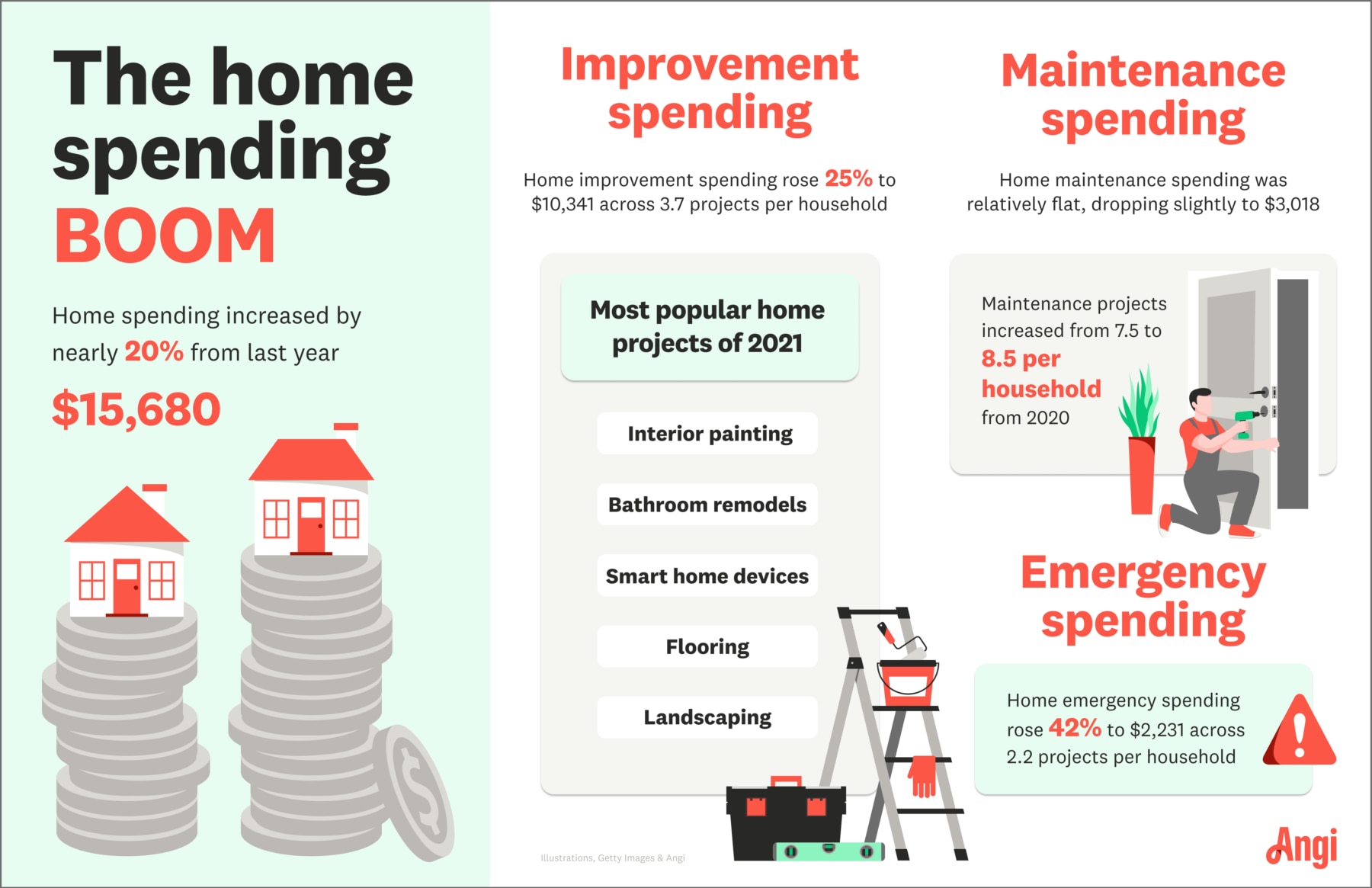 This week we released our annual report examining the behavior of households spending on home improvement, maintenance and repair projects. This report is a deep dive into the home spending boom we've continued to witness since the start of the pandemic. Not only did homeowners spend more on their homes, but they also completed more projects. The growth in spending we witnessed last year continued at a dizzying pace as people are still spending more time in their homes.
2021 also presented homeowners with trillions of dollars of home equity and that wealth has been, at least in part, reinvested in the home through improvements, maintenance and repairs.
Our topline findings include:
1 in 4 homeowners spent at least 1.5x more time at home than they did pre-pandemic, and 1 in 6 have doubled the amount of time they spend at home.
Remodeling household Homeowners, who did projects, spent an average of $15,680 this year on home improvement, maintenance and emergency repairs, across an average of 14.4 projects.
Home improvement spending rose 25% to $10,341 across 3.7 projects per household.
Home emergency spending rose 42% to $2,231 across 2.2 projects per household.
Home maintenance spending stayed relatively steady, with a slight 4% decrease to $3,018. This was spread across 8.5 projects per household, up from 7.5 in 2020.
The most popular home project of 2021 is interior painting (32%), followed by bathroom remodels. Installing smart home devices, a first in our survey's history, took the third place spot this year.
The top two reasons for uncompleted projects were COVID-19 disruptions (26%) and prohibitive pricing (22%).
Half of all homeowners (49%) experienced unexpected home equity gains.
The share of households shifting commuting budgets into their homes increased from 33% last year to 40% this year.
Pandemic movers are 20% more likely to be in what they consider their "forever home" but just as likely to feel their home needs remodeling.
If you had to distill it all into one overall takeaway, what would it be?
Pre-pandemic, people were motivated to work on their home for a return on investment or other financial incentives. Now, they're prioritizing projects that help their homes better suit their new normal – projects that dramatically change the look for or use of your home for a reasonable cost. The combination of home equity gains, changes in home needs, a building boom, and postponed home projects, suggests years of potential pent-up demand and ongoing growth in consumer spending.
You can read the full State of Home Spending 2021 report here.